November 13, 2023

• News
PPHC Launches Concordant Advisory
Supports organic growth and expands PPHC's offering in corporate advisory services.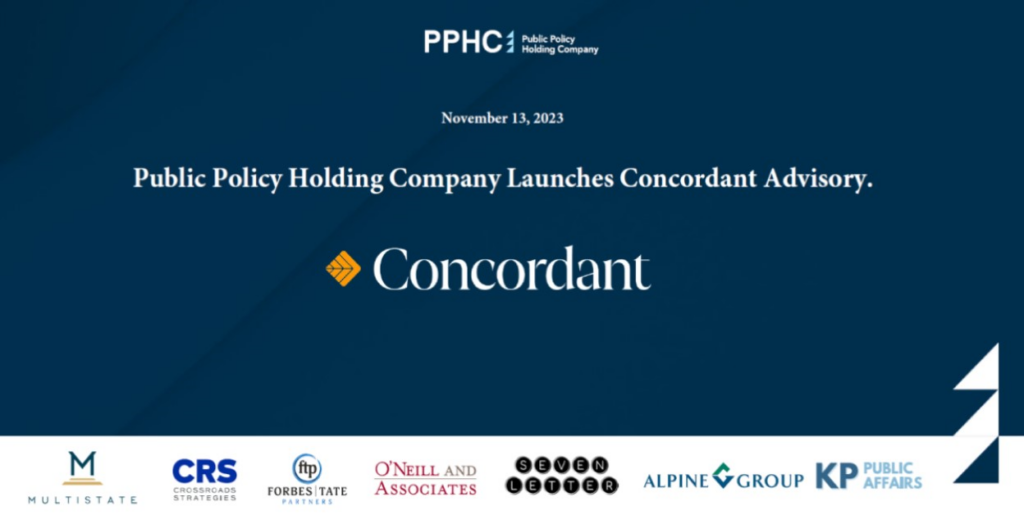 Public Policy Holding Company, Inc., the government relations and public affairs group of companies providing a comprehensive range of advisory services, is pleased to announce the launch of Concordant Advisory ("Concordant"), a new Group operating entity that integrates its policy expertise and communications capabilities.
Delivering results under a unified plan, team, and pricing structure, Concordant will provide its clients with industry-leading government relations, public affairs, audience insight capabilities and full-service, strategic communications.
Based in Chicago, Concordant will be led by Sarah Wills, CEO. Ms Wills is a former Executive Vice President and Chief Corporate Affairs Officer at Cardinal Health, where she presided over communications, government relations, enterprise marketing and brand. Prior to Cardinal Health, Sarah served in leadership roles within government relations, communications and strategy at GE, and led corporate affairs at Tempus, an AI-enabled precision medicine business. Before her corporate career, Sarah spent fifteen years in politics and policy, initially as an Associate for David Axelrod and Associates, then several years as a Legislative Assistant on Capitol Hill, Senior Policy Counsel to the Governor of New Jersey, and Executive Director for New Jobs for New York, a 501(c)(3) launched by then U.S. Senator Hillary Rodham Clinton.
Concordant will build multi-disciplinary teams to service client organisations that are investing for long-term growth and resilience, such as AI, progress towards a healthier planet, advancements in precision medicine and the reconfiguration of global supply chains.
Stewart Hall, CEO of PPHC, commented:
"Today's launch of Concordant is aligned with PPHC's organic growth strategy and will accelerate our expansion into the growing market for corporate advisory solutions.
"I'm pleased to welcome Sarah to PPHC and look forward to partnering with her to continue to build and integrate PPHC's unique bi-partisan policy expertise, nationwide coverage, in addition to broad public affairs and communications capabilities across our operating companies."
Sarah Wills, CEO of Concordant, added:
"Globally, policy and politics shape every major market theme, from technology driven growth opportunities, to the risks generated from shifting geopolitics and monetary policy. In today's uniquely dynamic market, Concordant is set to further empower c-suite leaders and boards with more control over their operating landscapes."
Visit Concordant's website at concordantadvisory.com
See the full RNS here.