PPHC Acquires MultiState to Broaden Client Offering and Footprint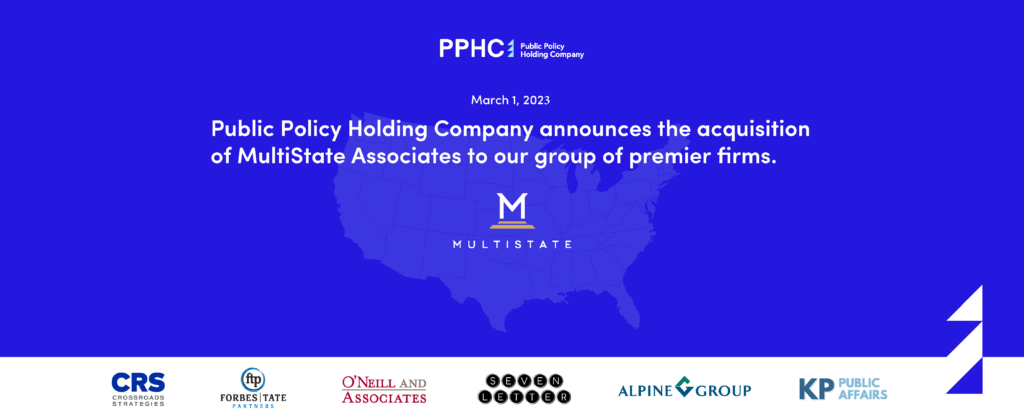 $22m acquisition "fits perfectly" with PPHC strategy – PPHC CEO, Stewart Hall
Geographical footprint broadened to all 50 US states and across Canada
Enables PPHC to extend client offering into more areas, e.g. research and compliance
Significant cross-referring of business between MultiState and existing PPHC brands expected
The government relations and public affairs holding company PPHC is continuing to execute on its stated growth strategy and has acquired MultiState Associates, one of the largest state and local government relations specialists, for $22m. Read the full acquisition announcement here.
The deal gives PPHC a significantly expanded footprint with operations in all 50 US states as well as across Canada. It also enables PPHC to broaden its client offering given MultiState's strength in the areas of research and compliance.
The combination of the two businesses is therefore highly complementary and a significant level of cross-referring of business between MultiState and the six other brands within PPHC's broader network is expected. PPHC's other brands include Crossroads Strategies, Forbes Tate Partners, Seven Letter, O'Neill & Associates, Alpine Group Partners and KP Public Affairs.
MultiState was founded in 1984 and has its headquarters in Alexandria, Virginia. It has over 300 corporate clients including several Fortune 500 constituents and has gained particular expertise over the years in representing some of the world's best-known organisations on issues of local, state, and national importance. MultiState's 77 employees – including all senior executives – will remain with the business.
PPHC has been undergoing significant growth and acquired KP Public Affairs, the largest advocacy and PR firm in California, for $25m in October 2022 – the most recent acquisition prior to MultiState. The pipeline of potential acquisition opportunities under development remains strong and, in considering each possible deal, PPHC will continue to look to broaden its geographical footprint, both in the US and internationally, and its service offering.
Stewart Hall, CEO of PPHC, commented:
"The acquisition of MultiState fits perfectly with our strategy of broadening our geographic footprint into key US state capitals and metropolitan areas, while extending our offering by adding key service capabilities in research and compliance. MultiState has a talented team and its strategic capabilities will solidify PPHC's leadership position as the largest and most comprehensive public policy firm in the US. Linking our well-established businesses in Washington DC, Sacramento, California and Boston, Massachusetts to MultiState's network in 50 states makes the Group uniquely suited to support corporate clients in the most complex risks and opportunities they face.
"Our growth in the resilient and fragmented $17+bn US strategic communications market is driven by increased inter-connectedness of federal, state and international policies and risk exposure. I am confident that our combined businesses will benefit greatly from new capabilities, new geographies and new client opportunities."
Joseph Crosby, CEO of MultiState, commented:
"PPHC is bringing together highly specialised government relations businesses at a scale that's never been seen. This acquisition marks a significant milestone ​during​​ ​​​MultiState​'s 40th year in business as well as for each of my talented partners and colleagues. It also marks a milestone for our clients and the industry, as federal and state policy issues are evermore interdependent and require the professionalism and seamless integration that only PPHC and MultiState now offer."