Forbes Tate Partners Adds Health Policy Expert Dr. Christy Gamble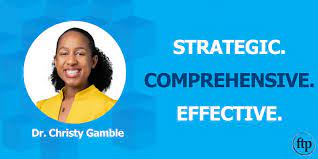 WASHINGTON – Forbes Tate Partners (FTP), a wholly-owned subsidiary of Public Policy Holding Company, Inc. (PPHC.L), announced today the addition of Dr. Christy Gamble as Senior Vice President to lead the firm's Research and Policy Analysis department. Dr. Gamble brings tremendous experience in strategic policy research to Forbes Tate and has done extensive work on Capitol Hill and across the country to reduce health and economic disparities for marginalized communities.
"We are thrilled to have Dr. Gamble's insights and expertise, and we welcome her to the team," said FTP Founding Partner Jeff Forbes. "Our research department is an integral part of our team, providing the latest information we and our clients need to successfully advance important policy objectives. She is a strong leader who brings with her the tools needed to provide our clients every advantage possible in a very complicated legislative landscape."
"I'm looking forward to joining the talented team at Forbes Tate Partners in their Government Relations practice and leading the firm's Research and Policy Analysis division," said Dr. Gamble. "Advancing our client's policy priorities requires creative solutions and an exceptional understanding of the political and policy dynamics impacting not just Capitol Hill and the administration, but also statehouses across the country. That's why I'm excited to contribute my unique background and experiences to support and amplify the strategic goals of our clients in today's political environment."
Prior to joining Forbes Tate Partners, Dr. Gamble served as the Director of Research, Policy, and Practice at HUED, a startup focused on connecting marginalized patients of color to culturally competent medical providers in their communities. Dr. Gamble also worked as the Head of Policy and Strategy for two non-profits aimed at advancing health equity for marginalized communities. She has served as the Democratic Health Counsel for the then Oversight and Government Reform Committee.
She was also selected as a National Minority Quality Forum's 40 Under 40 Leader in Health, deemed an expert with the Allies for Reaching Community Health Equity Expert Network, and named the Duquesne University School of Law 2016 Recent Graduate of the year. Additionally, Dr. Gamble has written several op-eds that were featured in U.S. News and World Report, ABC News, The Hill, Rewire, and TruthOut.
Dr. Gamble earned her JD from Duquesne University School of Law; she also holds a DrPH in epidemiology from the University of Pittsburgh Graduate School of Public Health and an MPH in epidemiology and biostatistics from Eastern Virginia Medical School. She received a BS in microbiology from North Carolina State University.