Alpine Group's Keenan Austin Reed Awarded Lobbyist of the Year at WGRG's Tin Cup Awards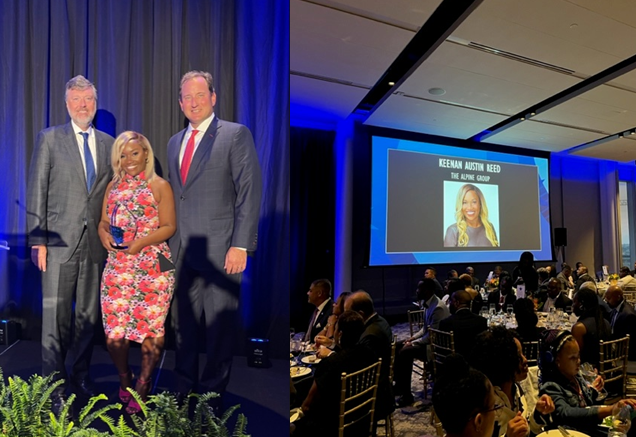 WASHINGTON, DC – Washington Government Relations Group (WGRG) held the twelfth Annual Tin Cup Awards on Wednesday evening where the group presented Keenan Austin Reed, Executive Vice President at Alpine Group, with the prestigious Reginald "Reg" Gilliam Lobbyist of the Year Award. The Reginald "Reg" Gilliam Lobbyist of the Year Award is granted annually to an outstanding African-American lobbyist selected by WGRG, a non-partisan, independent, volunteer association whose goal is to enhance the leadership prowess and careers of African-American government relations professionals.
"I am both honored and humbled to receive this award from a group of my peers. I feel fortunate to do such rewarding work alongside so many talented professionals. Lobbying is a team sport, and this recognition underscores our collective effort to serve as a critical tool of our democracy, amplify the concerns of the unheard and champion causes that desperately need attention. I remain committed to using my platform to drive positive change."

–Keenan Austin Reed, Executive Vice President, Alpine Group

In addition to her work at Alpine, Reed is the Chair and Co-Founder of the Black Women's Congressional Alliance (BWCA), Advisory Council Chair at GlobalWIN, a member of the Congressional Black Caucus Foundation's (CBCF) Corporate Advisory Council, and Vice Chair of SOME's (So Others May Eat) Corporate Advisory Board. In May of 2021, Reed testified before the House Select Committee on the Modernization of Congress. The focus of her testimony was recruiting, maintaining, and empowering diverse congressional staff.

Read Alpine Group's full press release here.